Sorry, blatant Doctor Who reference. I'm just a little excited about the upcoming finale... though a wee bit sad about losing David *woes*
Anyway, welcome to my end of year post. Special greetings to those from
Absolute Write
's Blog Chain *waves*
For me 2009 was a year of ups and downs, mostly downs. I'm not going to go into detail, but tomorrow would have been my mother-in-law's birthday. We lost her to cancer just before Easter, and the year didn't really improve from there.
But 2009 has been a year of finding new friends and having them come through for me. I've been delighted to find a bunch of like-minded writers on AW, especially scarletpeaches and thethinker42, who welcomed me to the Bordello with open arms and a proddy stick to get me to post.
It was also the year I finally saw one dream become a reality - the very lovely people on Terra Firma funded mt flight to L.A and Creation's Farscape Convention, basically enabling me to meet the very lovely, very talented Lani Tupu. Who is so much hotter in the flesh (yeah, if this was meant to cure the obsession then it kind of didn't work *giggles*)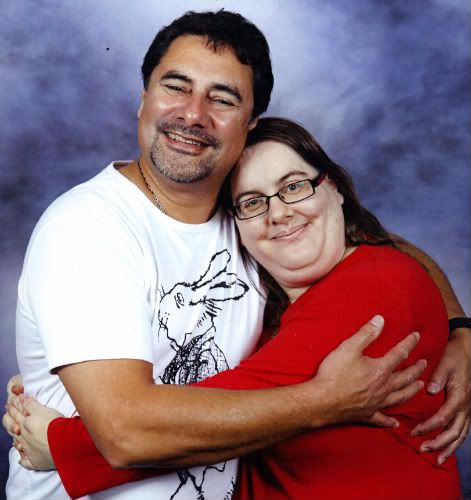 That people? Worth the crap.
Below is the Blog Roll. Please read and comment:
Lost Wanderer –
lostwanderer5.blogspot.com
Claire Crossdale –
theromanticqueryletter.blogspot.com
coryleslie –
corrinejackson.wordpress.com
bsolah –
benjaminsolah.com
DavidZahir –
zahirblue.blogspot.com
RavenCorinnCarluk -
ravencorinncarluk.blogspot.com
Ralph Pines –
ralfast.wordpress.com
shethinkstoomuch -
shethinkstoomuch.wordpress.com
Lady Cat –
randomwriterlythoughts.blogspot.com
truelyana -
expressiveworld.com
(Previous)
collectonian –
collectonian.livejournal.com
(Up Next!)
laharrison –
lesleyharrison.wordpress.com
beawhiz –
beawrites.wordpress.com
razibahmed –
blogging37.com
FreshHell -
freshhell.wordpress.com
AlissaC –
alissacarleton.blogspot.com
Aimee –
writing.aimeelaine.com
Wishing you all a very happy Christmas and best wishes for 2010 *g*