With Creation's 3rd Final Frellin' Farewell just two days away, I've finally gotten around to putting together the messages to Lani from Farscape fans into a book (known as a 'conbook' for obvious reasons). I didn't get as many entries as I'd hoped I would, but I was still determined to make the book as pretty as I could.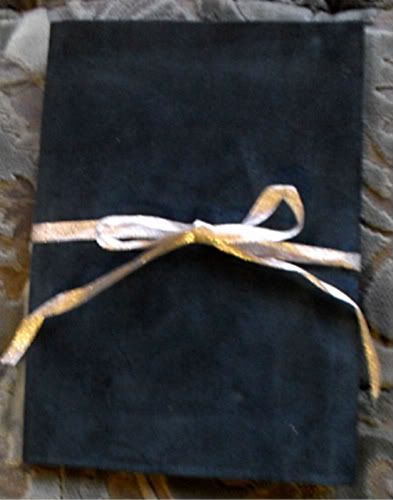 Here's the conbook in all its glory. I'm really pleased with how it's turned out and I hope Lani is going to like it. I think he will do.
The paper is cream-coloured with machine-deckled edging. I wanted a rougher look, but this was all I could find. Once I'd arranged the entries in Word, I printed them out one at a time, at the highest quality my printer could manage. I then folded each page in half, to create an A5-sized booklet.
There are three 'signatures' (as they're called), each of two pages. These were sewn to a piece of navy blue cardstock in their pairs. The middle spread of each signature was left blank while the sewing was done.
With the inside of the book complete, I turned my attention to the cover. I found the gorgeous navy suede on eBay a while ago. The silver ribbon was out of my stash. This was sewn to the centre of the suede and then I glued another piece of cardstock on top.
I then trimmed the suede and mitred the corners, turning the fabric over the cardstock and gluing it down. The inside of the book was then glued to the cover and both sides weighed down as it dried.
Once the book was done, the larger artwork entries were trimmed and pasted to the blank pages. And there it was, done and gorgeous, even if I do say so myself *g*